DAVID PAWSON, FEB 1930 – MAY 2020.
David ascended to be with his Lord and Saviour at 9am on Ascension Day, 21st May 2020
Our thoughts and prayers are with his wife Enid and Family at this time of great loss and we are also grateful to the staff at Oak Lodge who have shown David an amazing amount of care and love over the past 12 months.
Due to the current lockdown situation in the UK, the funeral service, held on 2nd June was a private family matter but we do hope to organise a thanksgiving and celebration service later this year or at a time when lockdown is lifted and more people can come and celebrate Davids life.
To view a message from David's Family CLICK HERE
David has left a huge legacy with many thousands finding the Lord through his ministry. He leaves us with a wealth of biblical recorded wisdom. He was passionate about teaching the truth and exposing error and specifically to encourage everyone to read the bible for themselves. He was an advocate that the solution to every situation can be found by reading the scriptures.
David has struggled with Cancer of the bones and Parkinsonism symptoms for many years now which caused a gradual and progressive deterioration of his body. We thank the Lord that he was not impacted by the Corona Virus.
His ministry continues… CLICK HERE to view his last message
To view a statement from the David Pawson Teaching Trust CLICK HERE
Welcome to David Pawson's online teaching library
The aim of this website is to make all of David's teachings available worldwide. More messages will be added over time. All recordings continue to be available on CD and DVD across the globe.
If you have been blessed by David's talks we invite you to be a partner in his ministry through your financial support of our work — to make a donation click here.
VIEW DAVID'S TEACHINGS
VIEW DAVID'S TEACHINGS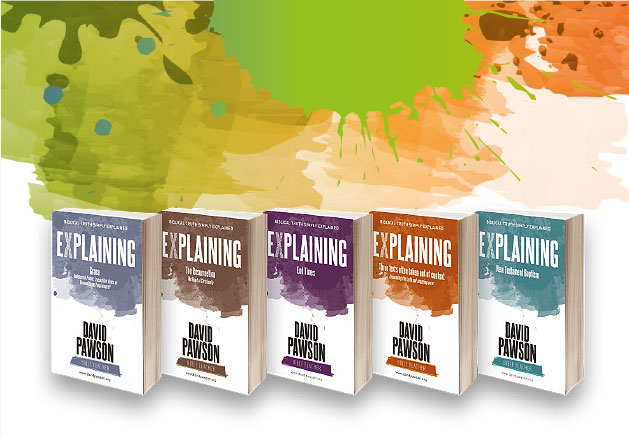 David has also launched an Explaining Series that teach what the Bible says about subjects important to becoming a Christian and growing a relationship with a living God. 'Biblical Truths Simply Explained' find out more at: explainingbiblicaltruth.global